A controversial radio DJ's wife sold his $45,000 sports car on eBay for less than a dollar after he flirted with model Jodie Marsh on air.Kerrang 105.2's Tim Shaw told the sexy babe he was prepared to leave his wife and their two children for her.

The DJ's wife was listening and immediately started an auction on eBay to sell his Lotus Esprit Turbo with a 'Buy It Now' option of $1.00.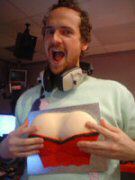 The item description read: "I need to get rid of this car in the next two to three hours before my husband gets home to find it gone and all his belongings in the street."
The car was sold in under five minutes.
It wasn't the first time this DJ upset his 27-year-old wife. When she was pregnant he rang up her sister live on air and said he thought about her while having sex with his wife.
Mrs Shaw said: "When he said he would leave me and the kids for Jodie Marsh, that was it for me. I am sick of him disrespecting this family for the sake of his act.
"The car is his pride and joy but the idiot put my name on the log book so I just sold it. I didn't care about the money, I just wanted to get him back."

She added: "There is no hope for a reconciliation." A Kerrang 105.2 spokesperson said the DJ was 'absolutely gutted'.